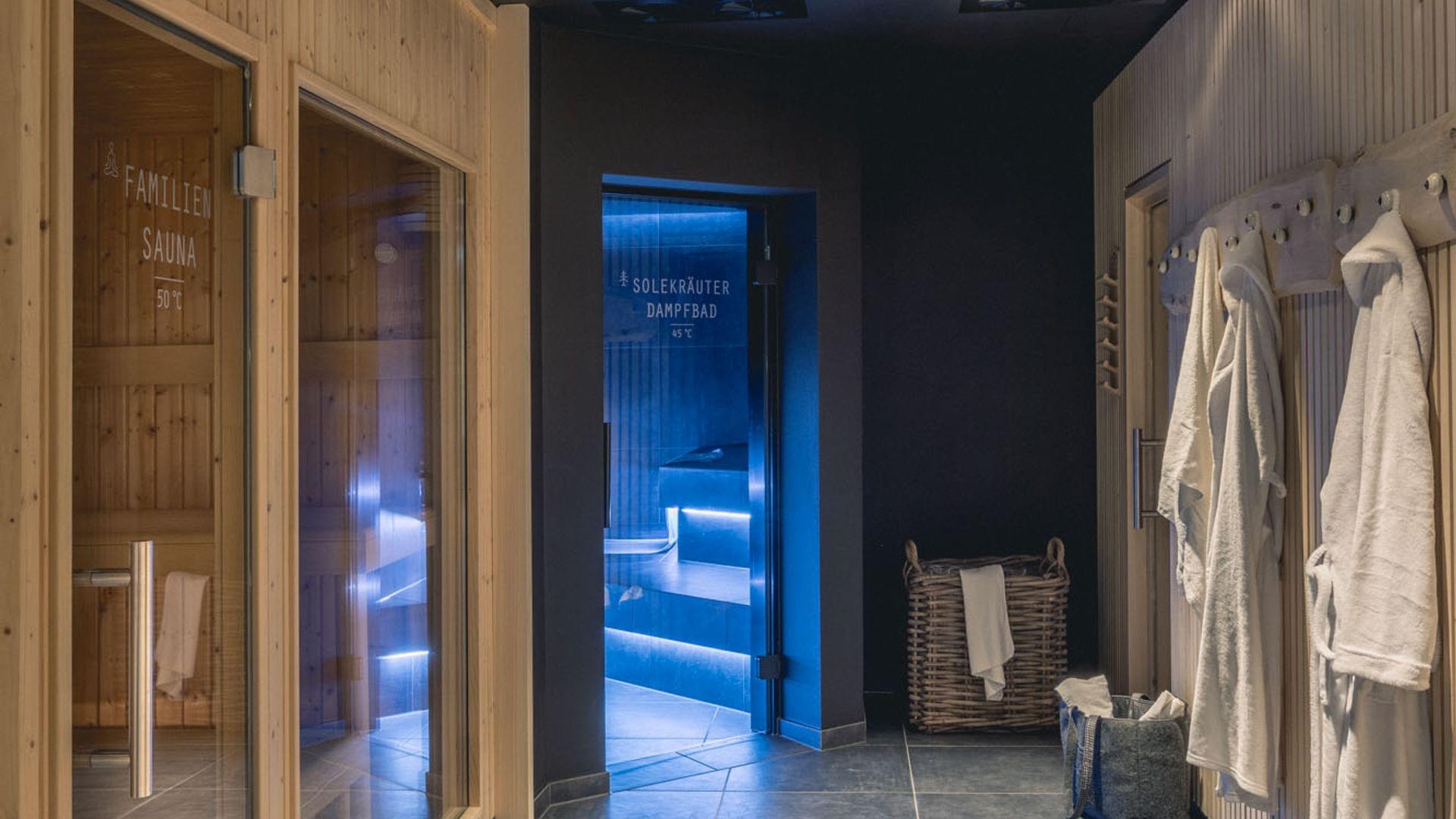 Sweat-inducing views in the Allgäu region
After an action-packed day out in nature, a sweat-inducing work-out or to get away from the daily grind for a few hours and let your mind unwind, why not head to Torghele's Sauna realm and enjoy some pleasing relaxation. A sauna session is not only about rest and relaxation, it also has a positive effect on your health and beauty. Sauna sessions strengthen your immune system, relax your joints and muscles, promote circulation and stimulate overall well-being.
New in Torghele's Sauna world from 2021:
Allgäu sauna cabin (90 degrees)
Soft sauna (70 degree)
Forest herb sauna (55 degree)
Family sauna (50 degree)
Infrared cabin (40 degree)
Salt water steam bath (45 degree)
Ice fountain
Tea lounge
Torghele's extensive sauna world
Enjoy a traditional sauna with superb views too the Allgäu mountains. Thanks to less humidity and a temperature of between 80 and 90 °C, a session in our steam room is ideal for detoxing and ridding the body of impurities. Infusions with menthol or mint also have a beneficial effect on your respiratory tract.
Salt water herbal steam bath
The steam bath (45 to 50 °C) is a more gentle sauna variant, compared to our Allgäu steam room. Thanks to the higher humidity and lower temperature, a steam bath is easier on the circulation and more tolerated by the respiratory tract. In any event, a session in the steam bath is a must for all sauna lovers.
Our forest herb sauna (55 °C) is a steam bath that not only enhances overall well-being, but also alleviates muscle tension and opens up the respiratory tract and pores.
Relax at 70 °C: A trip to the soft sauna has a positive effect on your immune system, creating relaxation and enhancing well-being. This type of sauna session is particularly recommended for guests who cannot tolerate higher levels of heat.
Our new family sauna (50 °C) is a sauna you can visit with your family. The repeat stages of sweating and cooling off will help your body to get rid of waste products and other toxic substances. Your respiratory tract in particular benefits from the healing and cleansing effect of essential oils.
Enjoy the pleasing warmth in our infrared cabin (40°C). The heat distribution in the cabin is more even and the air stays cooler. This is easier on your circulation and respiratory tract. Infrared heat is a type of heat that is well-tolerated for all age groups and is also ideal for anyone who prefer a more gentle effect on the circulation, since infrared radiation has a direct effect on the body.